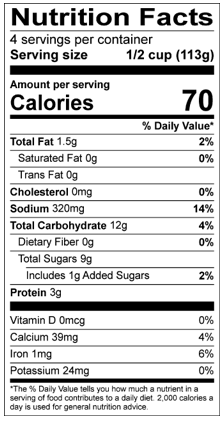 Nutrition Analysis: Services offered for your business
Nutrient Calculation for Restaurant Menus: accurate nutritionals in compliance with the Affordable Care Act (Section 4205 ) required for restaurants with 20 or more locations by 

May 5, 2017

.
Nutrition Analysis for Websites, Food Writers and Cookbooks: Highlight the healthy aspects of recipes and provide food exchanges for diabetes and weight control.
Nutrition Facts Label and Ingredient Statements:

A Registered Dietitian (R.D.) will guide you through the complex regulations outlined by the 1990 Nutrition Labeling and Education Act to help you create your product nutrition labels or recipe analysis.
Nutrition Analysis of Food Products:

Nutrition analysis can save you time and money when you start working with us during the development and production stage of your product. We help from the initial recipe to the camera-ready, FDA compliant Nutrition Facts label on the package of the finished product. [Click label for larger view]
Food Product Analysis and Advertising Claims:

Nutrition analysis can help substantiate FDA-regulated nutrient claims for food products that state that they are 'low in sodium' or 'low in fat'.
Product Research and Development:

Nutrition analysis can assist with recipe make overs to develop products that are less costly and healthier to meet the demands of nutrition conscious consumers. A Registered Dietitian will guide you through the development of your products to fit your marketing goals.
Avoid the Need for Expensive Test Kitchens and Labs:

The nutritional effect of adding or subtracting ingredients to recipes can be determined without spending time and money on lab analysis.
Marketing Appeal:

Although your company may be exempt under current mandatory labeling laws, consider the marketing appeal of offering nutrition information and healthier food options to your customers.